==============================
Day 1
==============================
Group A

==============================
Group B
Group A
-[Playername1]
Against [*Playername2] : W/L
Against [*Playername3] : W/L
Against [*Playername4] : W/L
>Score: W:L
-[Playername2]
Against [*Playername1] : W/L
Against [*Playername3] : W/L
Against [*Playername4] : W/L
>Score: W:L
-[Playername3]
Against [*Playername1] : W/L
Against [*Playername2] : W/L
Against [*Playername4] : W/L
>Score: W:L
-[Playername4]
Against [*Playername1] : W/L
Against [*Playername2] : W/L
Against [*Playername3] : W/L
>Score: W:L
==============================
Group B
-[Playername5]
Against [*Playername6] : W/L
Against [*Playername7] : W/L
Against [*Playername8] : W/L
>Score: W:L
-[Playername6]
Against [*Playername5] : W/L
Against [*Playername7] : W/L
Against [*Playername8] : W/L
>Score: W:L
-[Playername7]
Against [*Playername5] : W/L
Against [*Playername6] : W/L
Against [*Playername8] : W/L
>Score: W:L
-[Playername8]
Against [*Playername5] : W/L
Against [*Playername6] : W/L
Against [*Playername7] : W/L
>Score: W:L
==============================
Each player will play once against another player in their league/group.
There will be a total of 12 games after this play.
Each game will be played one or two at a time, observers are encouraged.
==============================
Day 2
==============================
[*] Qualify.
The 2 top achievers of each group will proceed to the eliminations.
In the single eliminations, a player would play against another for the
best of three rounds. If a player wins the first two rounds, it would be
unnecessary to play the third round. Therefore, the third will not be played.
The winner moves on to the grand finals, while the loser is eliminated
with the rest of players. Observers are encouraged.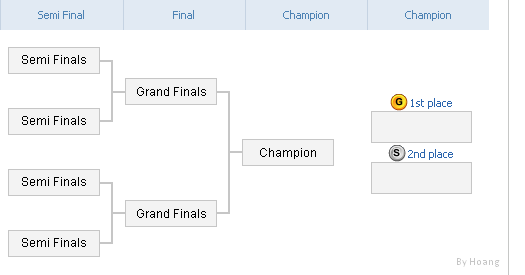 >
http://sjcfrozen.forumotion.com/gaming-f2/official-tourneys-begin-train-up-hoang-t44.htm